This post contains affiliate links, many which go to Amazon and are Geo-Affiliate links to nearest Amazon store.
After an injury a cold compress can be one of the most soothing things you can place on an injury, but what if I told you you could have an entire machine dedicated to pain relief and decompression for anything from sore muscles to a strained back? LifePro has you covered with their cold therapy machine! It's easy to use, simple to pack and unpack, and will have you back on your feet and ready to roll in no time! Without further ado let me tell you why you should buy LifePros CryoFrost Cold Therapy Machine, and how it can help you recover after a rough day!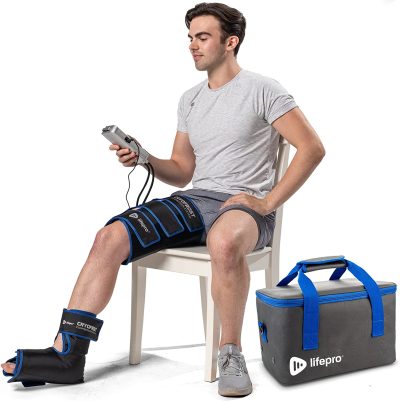 Features
Surgeries:We all have them from time to time, be it from an injury or simply an underlying issue. LifePros device is a godsend for any sort of swelling, not to mention it minimizes pain post surgery with minimal setup making it perfect for anyone who can't quite get up to strap themselves in, and takes using an ice pack to an entirely new level. Be it a sprain or a complex knee surgery, LifePro wants to help you through it however they can! Reduce your recovery time with LifePro, and get back out there!
LifePro also has you covered for things a little less drastic than recovering from a knee or acl surgery! In fact, cold compression is a fantastic method for recovering from a rough day at work, an intense game of basketball, or even just some stiffness during the day! It's really a therapeutic way to recover from any sort of trauma to your muscle tissue. It's also quite portable, easily packing into the included tote. Whether you're using it yourself or need assistance, nobodies going to strain themselves giving you a hand! Just unpack, slip in your included reusable gel ice packs, and you're ready to start healing! Cold therapy also helps boost your bodies circulation which has quite a few benefits including helping clotting, stimulating new tissue growth, and generally improving your overall health!
Everything is included with your cold therapy machine you need to get started, all packed into its tote, but what exactly do you get? Included with your machine is:A thigh and ankle wrap, gel ice packs, remote control, and an adapter. You also get a lifetime technical support guarantee because LifePro stands by their products! LifePro is more than a company, they're your friend!
Summary
Life can be rough. Injuries abound, stressful days are frequent, and things can generally be a hassle. It always helps to be prepared, so why not prepare for the worst with LifePro? This Cold Therapy machine will accelerate any recovery period you're being forced through, and is easy to store. On top of all that they include technical support which is really a fantastic way to ensure every customer is satisfied with their product. I'd recommend this to anyone who does a large amount of physical activity with a risk of injury, or even just someone with leg issues.