This post contains affiliate links, many which go to Amazon and are Geo-Affiliate links to nearest Amazon store.
An exercise ball can be a fantastic edition to your workout room, but standard exercise balls can be both large, and lack versatility. With LifePros Horizon series Half Exercise Ball, you can do a good deal more than you'd expect! From push ups to crunches, leg lifts to lunges, this balance ball does it all! It's got a sleek rubberized design to ensure that it's non-slip, and can support the largest of frames with a max weight of 440 pounds making it one durable exercise ball! It even includes a ball bump for additional exercises! So let me tell you why you should consider purchasing the LifePros Horizon Half Exercise Ball!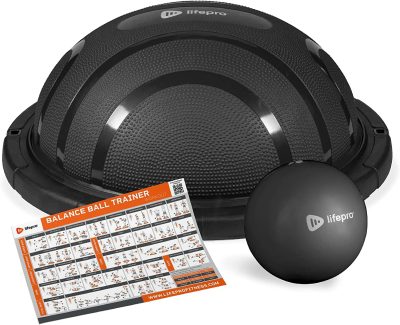 Features
Building a strong core is a good way to improve your overall workout and physical ability, and an exercise ball can do just that. This exercise ball however has the versatility to do so much more! Variation is key to building a healthy routine, and the Horizon comes with a brochure with suggested exercises that makes it a piece of cake to learn the basic exercises your ball can do! There's no limit to just how versatile a ball like this can be, and it provides the support you need for a variety of exercises.
Now lets talk benefits. This ball is perfect for both strength training as well as cardiovascular training. It's also exceptional for stretching, rehabilitation, and even plyometric training! It offers a variety of exercises for all skill levels, allowing everyone to get a good, solid workout in be they just starting out or seasoned athletes. This is a solid ball all around, and it features a pair of handles to make an already portable ball even easier to move around your home, or even bring with you on any trip. Business or leisure, LifePros ball has you covered.
As with every other LifePro product, even this humble exercise ball is backed by a lifetime of live support, as well as a variety of free training videos for really improving your exercise routine. LifePro is an absolute juggernaut when it comes to customer support and it really shows with this product. They really put commitment into helping you improve your personal health and wellness! One thing I failed to mention earlier is that this makes an extremely good gift for the elderly folks in your life, and there are a variety of exercises to improve their overall stability that this ball will facilitate!
Summary
With a sturdy design, an easy to clean surface, and a variety of training material I'd say this is probably the luxury model of exercise balls even with its portable design. Quite a few convenient things aren't cheap, but I'm proud to say that the vast array of LifePro products I endorse are both affordable, and you get far more for your value. You won't get a bonus mini-ball that facilitates an even higher variety of exercises, training videos, or customer support with a ball you picked up at your local superstore.