This post contains affiliate links, many which go to Amazon and are Geo-Affiliate links to nearest Amazon store.
In the apocalyptic quarantine zone that is 2021, sometimes a nice soak is exactly what you need after a long day. I'm Showcasing 3 Freestanding Hydrotherapy Bath Tubs for just the occasion. Hopefully, by the end of this article, you'll give one of these lovely tubs your consideration. Freestanding means these tubs require minimal to no installation and can be placed anywhere in your bathroom where a water line is present.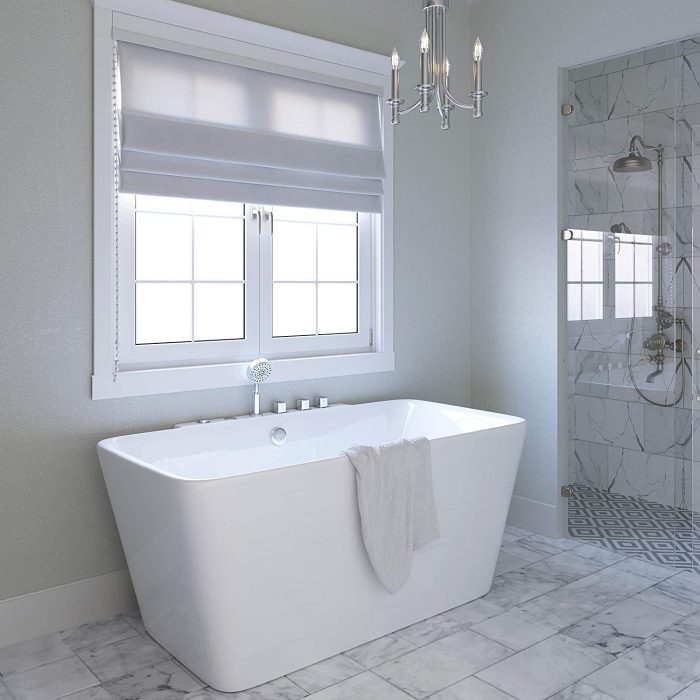 Key Features
Hydro Massage System featuring 14 jets
High Durability Acrylic and Fiberglass finish
Chrome Fixtures and Drain included.
1.5 HP Motors for comfortable Jet performance
Coming in glorious pearlescent white, this whirlpool tub looks extravagant, while still being extremely functional. It comes fully assembled, and makes a solid addition to most bathrooms. It's a decently compact model, measuring out at fifty-six inches. It does not feature faucets, instead filling via its bottom jets, with a seventy-seven-gallon storage capacity meaning the tub will support the largest of people with little strain. Its Hydro Massage system features fourteen jets, as well as an adjustable air bubble infusion setting to target aches and sore areas and melt the pain away. Its acrylic and fiberglass finish is extremely durable while still looking marvelous, complimenting many different bathroom setups. Its deep well design ensures you'll be immersed in comfort the moment you set the tub up and sink into its luxuriously smooth depths. It's a rear wall typical tub, but I myself could see it sitting in any area of my bathroom. It's a simple, lovely-looking design, and the reviews behind it are quite fantastic (I should know, I read through at least ten when I write these to get an idea of the quality of the product.). Its massage jets are quite well-reviewed, and personally, if you're looking for a tub to help you unwind at the end of a long day, this or any of the others on your list are all fantastic choices.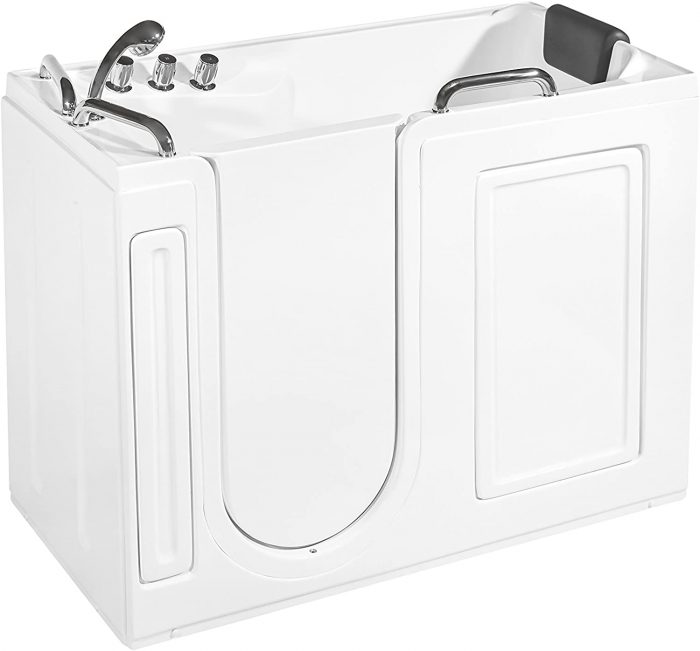 Key Features
Walk-In Design Perfect for anyone from children to senior citizens
Comfortable Padded Backrest/Many Grips
Ergonomic, Simple Knob design for simplicity of use
Compact Design fits in most bathroom spaces
The largest difference between this tub and others on our list is the design choices aimed towards comfortable entry. If you have an elderly relative or are older yourself, this tub is an excellent purchase. It features a walk-in design with a step of fewer than four inches that allows easy entry while ensuring no water leaks onto your bathroom floor, no-slip grip textures on the floor of the tub, as well as handrails, and a comfortable neck rest for long periods of lounging. On top of all these features, it also has an integrated seat, for maximum comfort. Outside of that, it features a glossy white acrylic build that's both durable and easy to clean (I own an acrylic-fiberglass tub myself so I can speak from experience.) and easy-to-use knobs and head all in a sleek chrome finish. Like our last product, everything comes pre-installed meaning aside from a plumber to handle the water line hook up, this is a no-hassle product. All the accessories come pre-drilled into the tub for as easy an installation as possible. It has a capacity of ninety-four gallons, and measures out at precisely fifty-two point five by twenty-six point five by forty inches.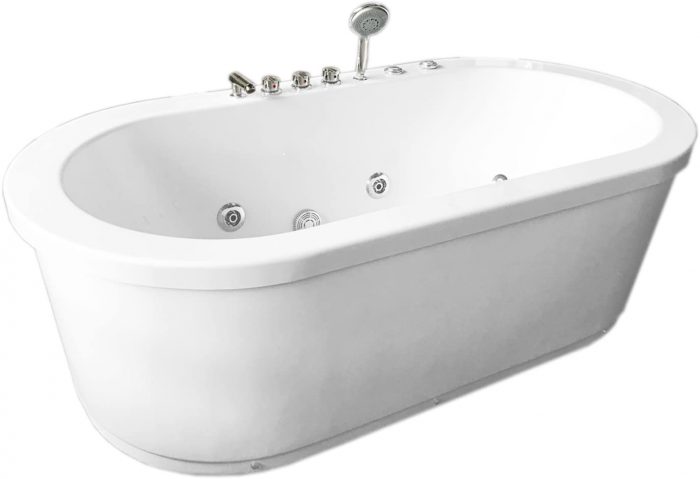 Key Features
Durable Fiberglass Design
Double Pump 16 Nozzle Massage System (8 Air and 8 Water)
Fast Assembly
This Tub by SIMASHOPPING USA stands at approximately seventy-two by thirty-seven by twenty-five inches, weighs in at two hundred and twenty pounds, and features a forty-gallon capacity. Its sixteen nozzle massage system is separated between air and water massage for a comfortable, relaxing soak any time of day. The engine behind the jets is 110 V which is moderately powerful, and the tubs lipped, fiberglass design with a polished finish would look great in any modern contemporary bathroom. The Oval Shape looks extremely lovely, and circular shapes are certainly my preferred ones for my personal bathroom setups. All the fixtures and nozzles are done in a sleek brushed chrome finish, and aside from water hookup installation, like the rest of our products on this list, this one comes pre-assembled for minimum stress after purchase.  
Final Thoughts
Hydrotherapy tubs are a fantastic way to relax and can be a lovely way to unwind after a stressful day, but purchasing one can be an extremely time-consuming, research-filled hassle. I hope this article has helped bring some light on some fantastic products for your consideration, and that you'll keep them in mind during your next Freestanding Hydrotherapy Bath Tub purchase. All in all, they're fantastic products at wonderful price points, all coming pre-assembled, with solid workmanship that will last you and your family many years if properly cared for after purchase. The only con that comes to mind is the lack of a heater with any of these, though you could buy and install one with them likely very easily. Thanks for reading, and have a fantastic rest of your day.