This post contains affiliate links, many which go to Amazon and are Geo-Affiliate links to nearest Amazon store.
A good patio is a perfect place to relax on a warm summer day, but if you really wanna upgrade your patio relaxation experience, how about television? I've got three large TVs perfect for outdoor patio viewing, and hopefully, by the end of these, I'll have convinced you of how awesome it'd be to own one of these gorgeous TVs. I'll cover the main features of each, as well as a little personal opinion along the way.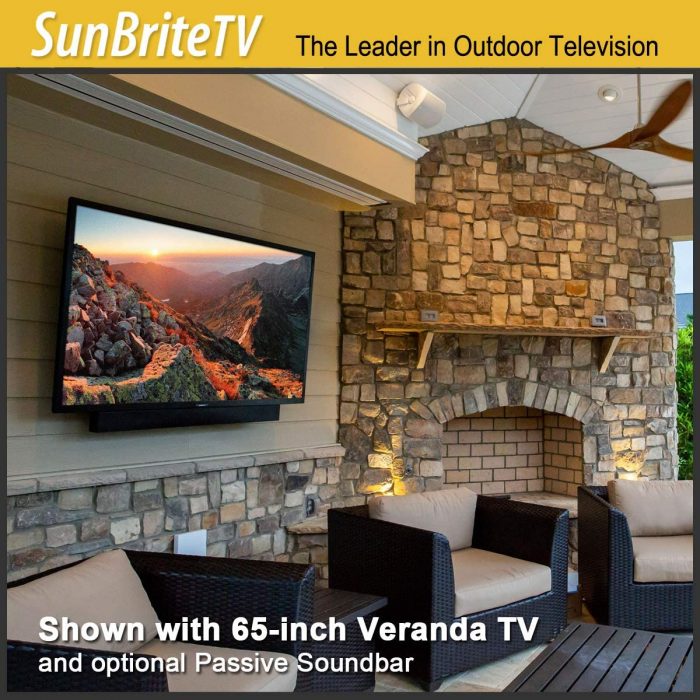 Key Features
Weather Proof! Durable Aluminium Case perfect for permanent installation!
A Variety of Sizes Available! 43, 55, 65, and even 75 inches!
Clear 4k UHD LED screen
This TV is an absolute beauty, I don't even know where to begin. Between the crystal clear picture, the perfectly ergonomic case, or just the sheer idea of mounting it on my dream veranda, sitting back and sipping an iced tea as I watch my favorite streaming services. Aside from looking great, as well as having a great picture, SunBrite was ever so kind as to include two options for sound. The TV comes with built-in speakers OR the option for a passive soundbar for a more immersive viewing experience, which in my opinion is extra value for the money you're spending right off the bat. In addition to all this, it's built to last, its aluminum case providing protection against everything from rain to snow that the standard plastic casing of indoor televisions does not. Now, let's talk about connectivity. The SunBrite Television family supports HDMI 2.0 and HDCP 2.2, meaning that its media bay is compatible with all your streaming devices, so with something like a Chromecast with google tv, you suddenly have a smart TV on your Veranda! Its media bay has a grand total of three HDMI ports and one USB, so it can handle multiple devices and switch between them seamlessly with the press of a button.
Key Features
Direct Sun Protection and IP55 Rating
QLED 4k Display
Smart TV Powered By Tizen
Smart Assistant Integrated – Ask Alexa, Bixby, or Google Assistant
Aside from being Samsung and therefore assured quality, this TV is an absolute goliath even without the brand name. It features a QLED 4k Display with glare resistance, so no matter where you sit you're getting a perfect view. Its IP55 rating means it's clear for permanent installation on any boxed-in outdoor viewing area, so patios, verandas, all of these are fine. It's an extremely contrast heavy television meaning you can adjust the blacks and whites of your picture to your heart's content. On top of all this smart home assistant integration means you can use your television to control all your smart devices. Someone knocking on your front door? Access your google nest camera and see who's visiting. It's all at the tip of your tongue so to speak. It's also a smart television meaning all your favorite apps are right there, no outside device needed. Viewing your favorite content from the comfort of your patio has never been so simple. They also include an HD Base-T receiver, meaning connecting external devices is all as simple as plugging them in and going. They're also kind enough to include an IP56 voice remote, and a few unique features I found were tap-to-view casting, as well as multiview, allowing you to continue to watch whatever you like on the tv while casting from your phone.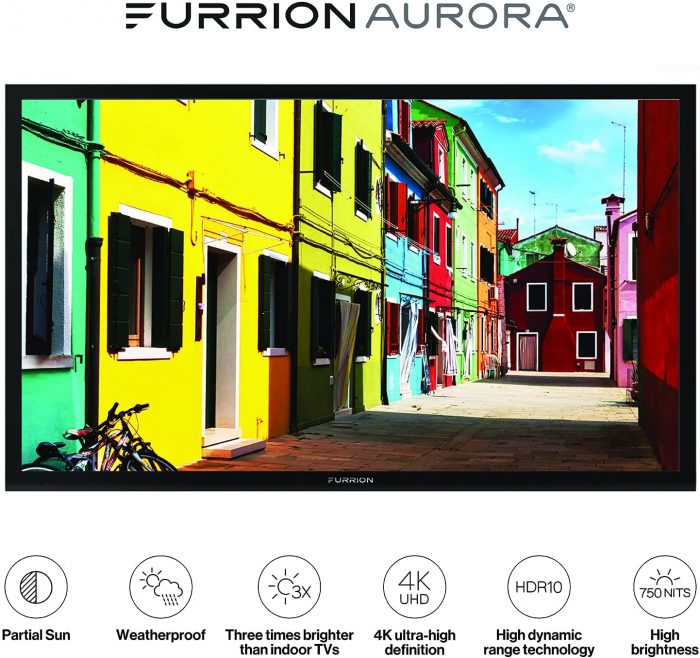 Key Features
4k UHD HDR Display
Adaptive Brightness for viewing any time of day
Protective Media Bay
Zinc Coated Connectors for Corrosion Resistance
Finally, we come to the Furrion Aurora Series Partial Sun Outdoor TV.
This TV packs a good deal of the bells and whistles of the televisions previously discussed on this list, so I'll be tackling the features unique to it. Its adaptive brightness feature automatically adjusts your TV's brightness according to the current light levels, ensuring optimal viewing at any hour of the day. It has a weatherproof protective media bay designed to house smaller streaming devices, so your Chromecast or streaming stick will be safe inside. Said media bay features 3 HDMI 2.0 ports, two USB ports, AV ports, and a connector for an antenna or full-on antenna box. The protective zinc coating on connectors ensures moisture corrosion is minimalized should your TV be exposed to direct weather, and its climatesmart technology combined with its IP54 rated housing ensures it can take a beating. Like the rest of the TVs on this list, it's cleared for permanent installation in any outdoor veranda-like area and comes with an IP67 water and dustproof remote. It's only cleared for partial sun exposure, however, so careful with your placement unless you want to fry your new TV.
Final Thoughts
These are all fantastic TVs, though my personal favorite has to be the Samsung. You get what you pay for, and all iterations of the model pack a lot of value into the price point. Then again I'm extremely biased towards convenience, and that's certainly its main feature being the only smart TV on this list. Regardless, all would make excellent installations and provide you and your family with hours of entertainment outdoors. Whether you're throwing a party, barbecuing, or just want to unwind and relax, you can't go wrong with any product featured on this list. Thank you for reading, and have a wonderful rest of your day.