This post contains affiliate links, many which go to Amazon and are Geo-Affiliate links to nearest Amazon store.
If you're looking for an Ottoman that's stylish, jam-packed with storage space, and sturdy as can be, you've come to the right place, and boy, do I have some furniture to show you. An Ottoman can be anything from a comfortable footrest for your favorite seat to an entire storage chest that also functions as a seat, with these being the latter, each featuring a large amount of space for storing all your favorite trinkets.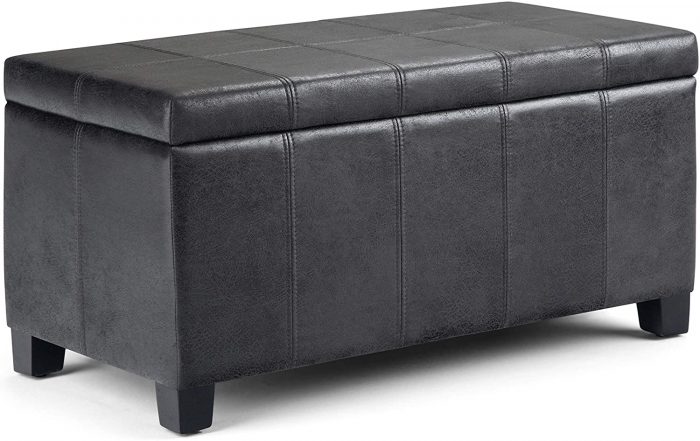 Key Features
Color: Many Available, though this one is Distressed Black
Fabric Type: Leather
LARGE INTERIOR STORAGE SPACE with lift top lid
Child safety hinge to prevent lid slamming
This stylish distressed black ottoman would look at home at the foot of your bed, in a hallway as a bench, or even in your living room. It's sturdy enough to function as a footrest or bench and has enough storage space to handle all your storage needs. The child safety hinge ensures that kids won't slam their fingers when closing the lid, meaning this could even make an incredibly nice-looking toy storage chest for grandkids when they come to visit, or children of your very own. It's certainly on the larger end, measuring out at thirty six by eighteen by eighteen and weighing in at twenty-five pounds, ensuring smaller children will have a hard time moving it, but should you decide to use it as a footrest, it's easily moved for your comfort. This particular model comes in distressed black but Simplihome offers a large variety of colors from cloud grey to tanners brown. It's an astonishingly good purchase for anyone looking for a fantastic new storage solution for their home at a fantastic price point of three hundred and nine dollars. For a proper piece of sturdy, stylish furniture, that's fantastic value. All in all, it'd make a wonderful gift this holiday season for yourself, or a loved one.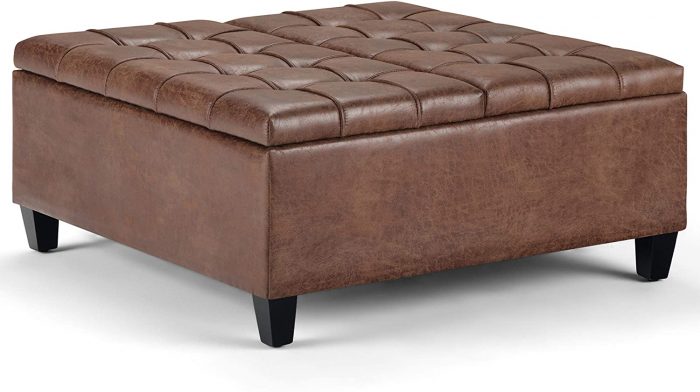 Key Features
Color: Distressed Umber Brown
Fabric Type: Faux Air Leather
LARGE INTERIOR STORAGE SPACE with split lift top
Maximum Weight Recommendation: 250 Pounds
Another stunning piece from Simplihome, this Harrison model ottoman features a combination lift top and standard lid, opening almost like a makeup vanity. Aside from that, it has an extremely large amount of storage space, being one of the larger and ergo heavier ottomans on this list. This monster of an ottoman is designed for the living room, specifically for placement in front of the couch, hence the "coffee table" moniker, though I wouldn't go placing drinks on it, you'd stain the lovely faux leather! Alongside the fantastic design, it also features a boatload of storage space, not to mention child-safe hinges for avoiding squashed fingers from heavy lid slams. It weighs out at fifty-two pounds making it a little harder to move than our last ottoman, though weight typically indicates the strength, and this one packs a sturdy frame that can support up to two hundred and fifty pounds sitting on it, so it can comfortably be used as a bench. Personally, I'd place it at the end of my bed, as I like to sit and put my shoes on. The best part is you're paying the same for this one as our last product, so really it's about the storage size you need, either way, you're getting one hell of a value-packed deal.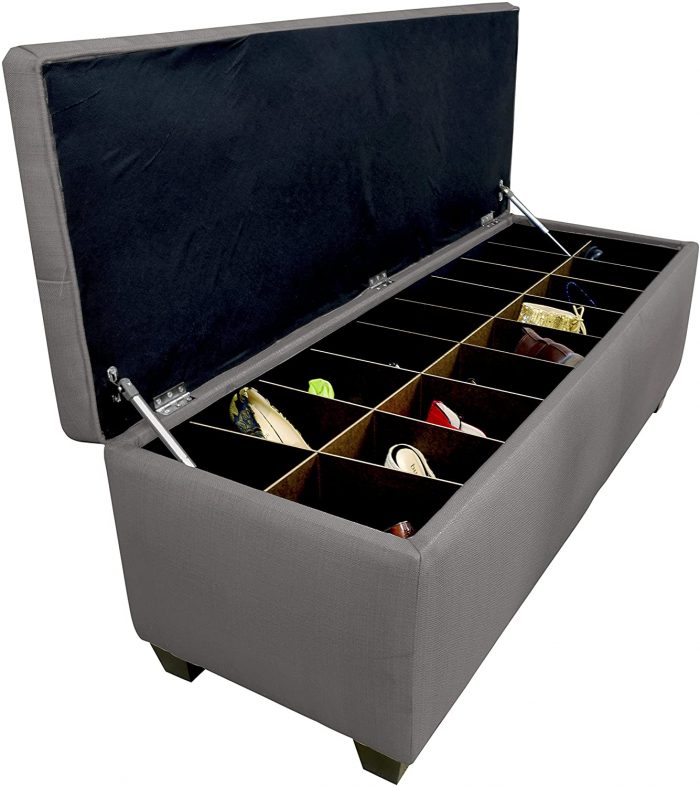 Key Features
Color: Grey
Fabric Material: Fabric
Frame Material: Wood
Extreme Shoe Storage!
 Our final product from MJL is designed for folks who have lots of shoes but lack the space to store them. It features eighteen sturdy wooden shoe dividers, which can fit a pair of shoes each. While the base color is grey, as with all the other products on our list, there's a variety of color options to suit even the most discerning customer. This particular ottoman measures out at fifteen by eighteen by twenty, with a recommended weight of three hundred pounds, so whether you're a large person like myself or small, it'll support you. Measuring out at fifty-five by eighteen by eighteen, this ottoman while a little on the larger side can fit in many different spaces, and at its current price point of three hundred and fifteen dollars, it matches the value of our other items on offer. To add to all this, the shoe dividers I mentioned earlier are removable, easily making room for larger objects. Its sixteen hand-stitched top button tufting is stitched and upholstered in the USA, ensuring quality that holds up over time, and will last for years given proper care. All in all, it's another fantastic item that'd look great anywhere in your home.
Final Thoughts
With the holiday season fast approaching, not only is shopping a consistent hassle but ensuring your home is comfortable for guests can be quite a chore, and I feel some of these products can alleviate that. They're all incredibly stylish, very much functional, and would ensure you, and any guests in your home have a considerable amount of storage space waiting for use at a moment's notice. Either way, I hope you give them all a bit of consideration, and most of all, I hope you have a fantastic holiday season, thanks for reading.
Disclaimer: All Product Prices discussed in this article were checked at the time of this article's conception. Prices Subject to Change.