This post contains affiliate links, many which go to Amazon and are Geo-Affiliate links to nearest Amazon store.
A good chair is an essential casual camping tool and makes any family camping trip complete. Not to mention a nice chair with a cold drink is an amazing way to start your getaway, double that if it's by a picturesque lake or river. I've got three fantastic examples of excellent camping chairs to show you, and I hope I can convince you of just how wonderful these would make your next camping trip. I'll be discussing key features of each chair, as well as giving my own two cents on them. All of the chairs featured include a zero-gravity recline system. Why would you want "Zero Gravity"? By reclining to a nearly flat position, your blood circulation is improved by shifting the weight to the whole chair. This zero gravity position is known to reduce back pain and discomfort due to the long duration of sitting down. Let's get started.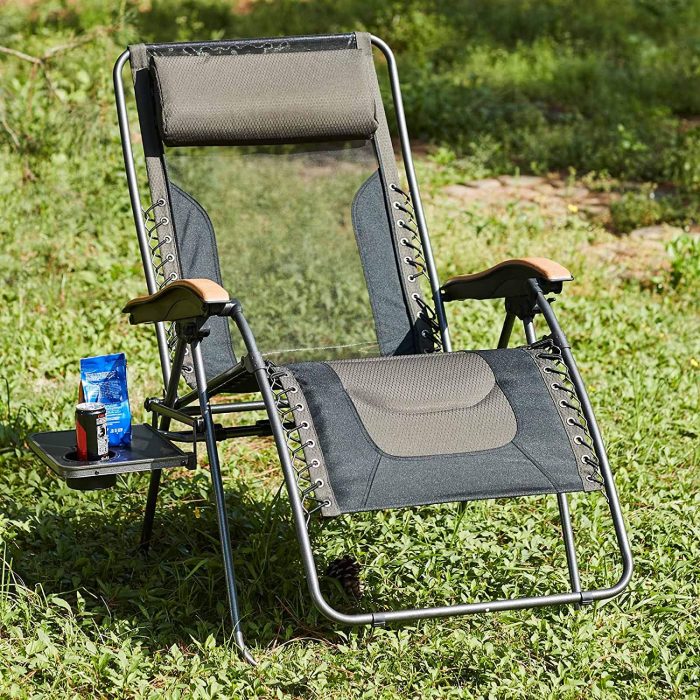 Key Features
Zero Gravity Curvature
Fully Reclinable
Max Weight: 350lbs
Fully Assembled, Larger Dimensions for Larger Users
This Dark Green chair is also available in a variety of colors, features a padded seat and mesh back support, all wrapped into an anti-gravity curvature and reclining system. Pair that with the adjustable headrest and included side table, and you've got all the makings of a comfortable, easy-to-use seat. It's built for larger folks like myself but can seat anyone from the average adult to a small child comfortably. Its handles are a stylish wood finish, and as someone with a bad back, and experience in coping with it, a chair like this is certainly a good investment for camping trips. Sitting on things like logs, or even normal chairs, can put unnecessary strain on your back, and the included side table is just a nice touch of convenience. It's got a beverage holder, and enough room for your phone as well as a bag of chips or another enjoyable snack. As I mentioned it comes in dark green but is also available in dark blue and dark grey. After several views of the videos associated with this product, I can certainly say it looks quite nice, though be sure the locking lever for the recline is fully locked, otherwise you may be in for a tumble.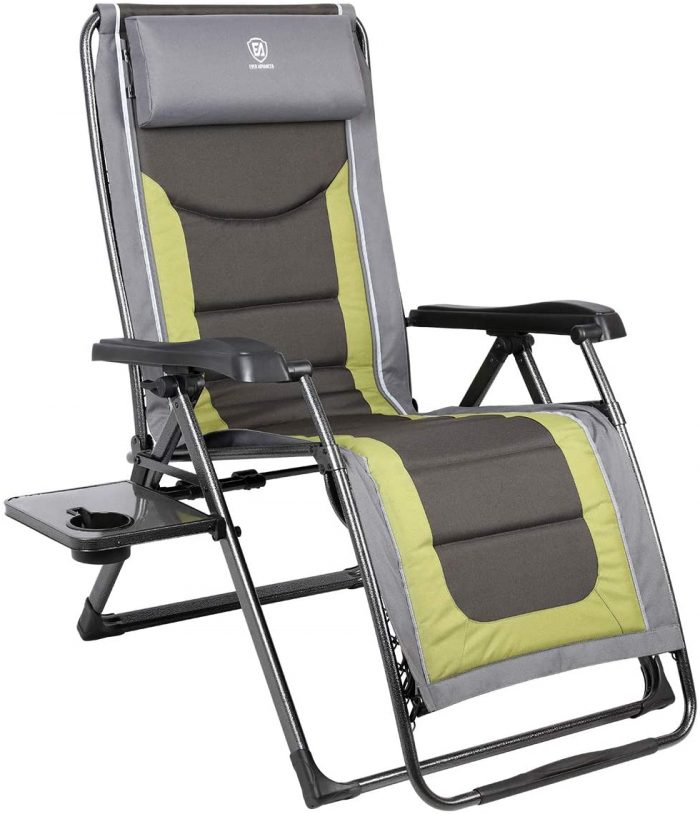 Key Features
Color: Olive Green
Large Dimensions with a max weight of 350lbs
Padded seat and back with emphasis on lumbar support
Zero-Gravity Recline System
Up next we have a very nice chair from EVER ADVANCED, featuring a lot of the features of our last product in a slightly larger package. This chair can seat someone of 6'2 comfortably, (or the last chair supported a max of 6'0), features a max weight of 350lbs, a padded seat, and back, as well as a built-in headrest, and a lovely little side table. It reclines to a maximum of one hundred and seventy degrees, with a similar locking system to our last chair, and I cannot stress this enough, please be ensure the chair is locked! It comes in a few other colors, including normal green, as well as blue!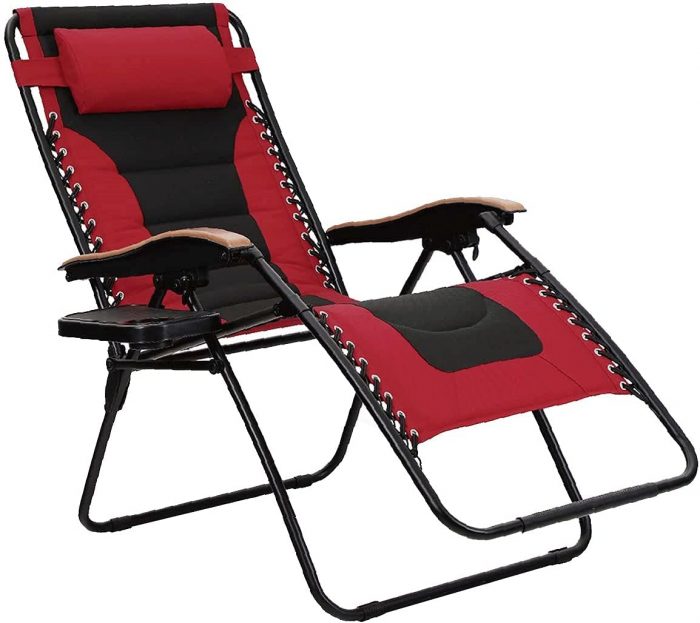 Key Features
Color: Red
Max Weight: 350lbs
Zero-Gravity Recline
Skid Proof Guards
Our final product, while looking similar to the previous two, packs a bit more value into its price point, though all would make fine purchases. The major differences between this chair and the others are the wider armrests, as well as the fabric it's made from being UV resistant, meaning it won't show wear from being exposed to the sun for long periods. It's also stain-resistant, weather-resistant, and has a nice pair of skid-proof guards on each leg. Aside from red, it comes in Aqua, Blue, Camouflage (Perfect for hunting trips), and Grey. The armrests are in a nice wood finish like our first chair, and again, a side table is a wonderful bit of convenience for a company to include in their chairs. I'd say this one is my personal favorite between the price point and the craftsmanship. Alloy Steel which the frame is constructed of is incredibly durable and holds up to time quite well as long as the chair is well cared for, and not roughly used. Not to mention the stain-resistant fabric. Family camping trips are always jam-packed with messy foods from chips, to burgers, to cola, so not having to disassemble to wash the fabric of or hand scrub a chair sounds like quite a bargain. I will however stress one more time, make sure the locking lever is locked when you recline! Safety is just as important as comfort!
Final Thoughts
It's important to enjoy your life, especially given the current hectic period we live in. We take the little bit of time we have to relax for granted, and a little bit extra spent on a camping trip can go a long way to reducing a bit of stress from your preparations. These chairs are all wonderfully suited for the task, and as I mentioned in the intro, zero gravity reclining is both better for you, and more comfortable than a standard chair, so that alone brings value to each product. Thank you for reading, and I hope all your camping trips are stress-free, joyous, and spent with your loved ones.