This post contains affiliate links, many which go to Amazon and are Geo-Affiliate links to nearest Amazon store.
Rowing machines are powerful ways to build muscle, and with consistent use, promote a healthier lifestyle for yourself, and the higher-end models have some exciting features that'll really help you improve your workout. These are three high-end rowing machines that are perfect for getting fit at home, and by the end of this, I hope I'll have convinced you of the benefits of owning one of these fine machines. Rowing machines, also known as ergometers or ergs, use both your upper and lower body with each stroke. This is, in turn, strengthens and tones your muscles as well as improves your endurance. They also provide some surprising benefits to your heart and lungs including strengthening your cardiovascular system.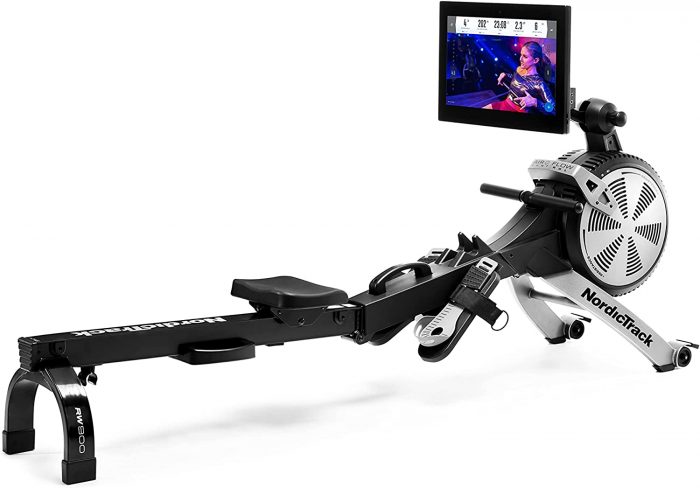 Key Features
22″ HD Interactive Touchscreen Display
26 Digital Resistance Levels
Innovative SpaceSaver Design
250-Pound User Capacity
Starting things off strong with the NordicTrack RW Rower! This powerful machine features twenty-six digital resistance levels, some simulating the waters of famous bodies of water! It comes with a thirty-day iFIT family membership to compliment your workout, providing professional rowing instruction straight to the machine 22″ HD Interactive Touchscreen display. These are each led by a knowledgeable iFIT trainer who automatically adjusts your resistance to optimize your exercise. Speaking of resistance, the RW Rower uses two forms of resistance, a smooth magnetic resistance controlled by your trainer, or manually controlled air resistance for a stronger, more intense workout. The machine's oversized, pivoting pedals with quick-release adjustable foot straps provide both confidence in your workout, and comfort throughout it as your trainer motivates you to succeed in your fitness goals. Finally, when you're done for the day, the SpaceSaver design allows you to literally fold your rowing machine in half, and use the front-mounted transportation wheels to easily store it for later use! iFits trainers also offer cross-training workouts, allowing you to mix up your workout on and off your rower.
Key Features
Performance Monitor 5
Durable Design
Separates into two pieces for storage
500 Pound User Capacity
Up next we have Concept2's Model E Indoor Rowing Machine. While this one doesn't have the technological bells and whistles of our last product, it does offer a strong workout while still keeping track of your fitness progress. Standing at 20 inches, with a nickel-plated chain, and a double powder coat with a glossy finish, the Model E is a model of durable craftsmanship, and the higher frame means those with tired knees or mobility considerations will have an easier time using their rower. The nickel plating on the chain ensures less frequent oiling needs, and the finish protects against scratches! The technical specs are also quite impressive, the flywheel and damper respond to your effort on every stroke, so you're in full control of both exertion and resistance at all times. The damper allows you to quickly adjust the airflow to the flywheel, so you can change the feel of a stroke to suit your preference. The flywheels design keeps noise to a minimum while ensuring your workout is smooth. The Performance Monitor 5 provides accurate, comparable data for every row, and its compatibility with USB flash drives makes storing your workout data simple. The Model E features a quick-release framelock mechanism making storage simple. Just separate the machine into two pieces, and you're ready to store it!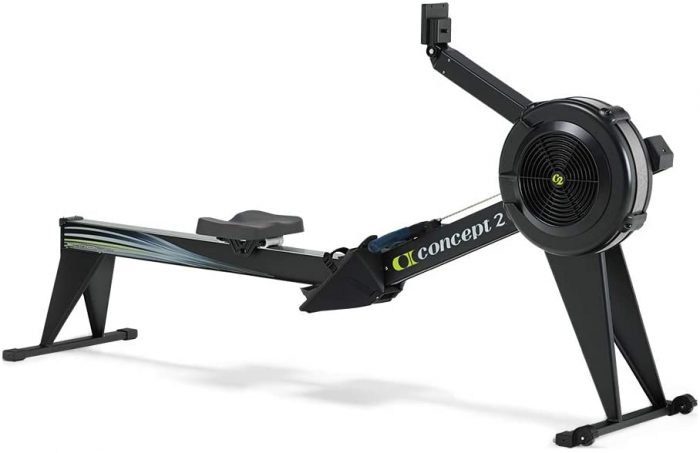 Key Features
Resistance Mechanism: Air
Separates into two pieces for easy storage
PM5 Monitor
Low-Noise Emissions!
One more from Concept2! The Model D is slightly lower than the ground rower but it still has the sturdy luxury you'd expect from a Concept2 Rowing Machine! It has a max weight recommendation of 500 pounds, and the same sturdy, the durable build I talked about with our last rower! It also has Concept2s patented Performance Monitor 5. What I failed to mention was that the Performance Monitor 5 also has the capacity to sync with many outside apps for tracking your progress, including their own free ErgData app that records your workout data, allows you to sign up for Concept2's workout of the day emails, join online challenges, and even compare your workouts to others on an online leaderboard! The PM5 also tracks time, distance, intervals, and can even track your heart rate with the use of a heart rate belt or other devices (not included, unfortunately.). They also back their products with a limited 2 and 5-year warranty for added quality assurance!
Final Thoughts
Rowing machines are a great way to stay in shape, and these are all extremely luxurious products, but you get what you pay for, and they all offer a solid amount of bang for your buck. Whether you prefer the more personal approach of a fitness instructor guiding you with each workout, or the simple but effective approach of seeing your numbers grow with every workout, these are certainly tools that are more than capable of helping you achieve your fitness goals, with a level of quality and craftsmanship you won't find in any other product on the rowing machine market. I hope this article has been informative, health is an important subject, even more so given some of us aren't even able to leave home. I hope anyone reading this has a wonderful holiday, and most importantly I hope you all stay safe and healthy, until I see you next, and thanks for reading.